STATEMENT
My work is largely inspired by the philosophies and aesthetic concepts of the East. Thematically the focus is on topics related to spiritual growth and on creating a sense of connectedness with nature. The works range from elaborate collages with Buddhist prayer papers and contemplative texts to meditative landscapes in the style of Enigmatic Realism, depicting a sense of mystery and tranquility.
The works span from acrylics to collage on canvas. I have a great affinity for soft, wide brush strokes, reduced forms and for color. I find my inspiration on my daily walks in nature, in poetry, yoga and in Eastern philosophy. For me painting is an active form of meditation, a visual language and a tool for raising awareness.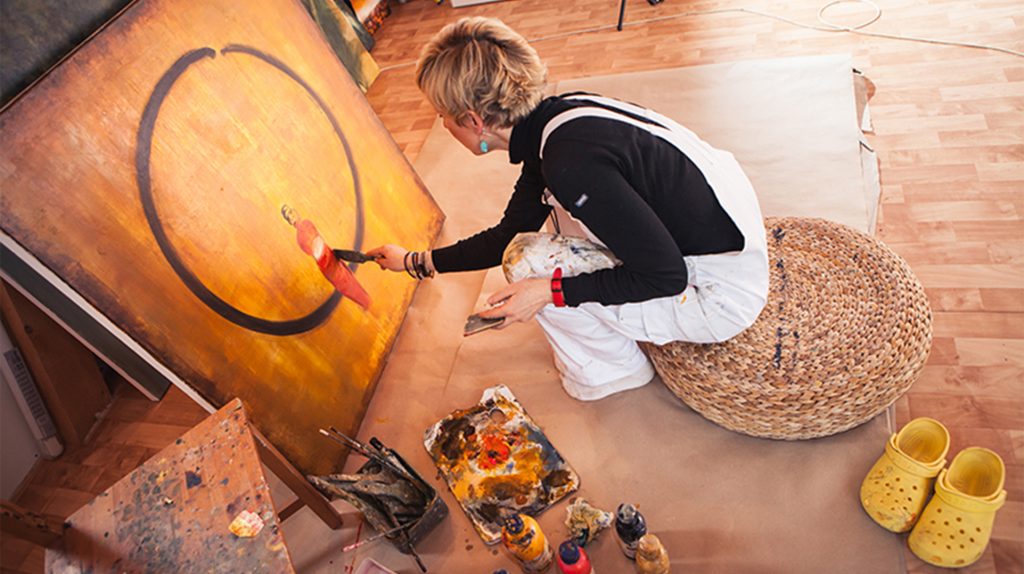 BIOGRAPHY
Born February 5th in 1973 in Helsinki, Finland, I grew up in Switzerland, Finland, the US and Germany. After a Masters Degree in Forestry from the University of Helsinki and an international career in forestry, I decided to return to university for a Masters Degree in Fine Arts, Education and German. After years in Sweden, I returned to Munich in 2007, where I since then divide my time between exhibits, projects and teaching.
My studio is located just south of Munich, on the foothills of the Alps, in the vicinity of beautiful lake Starnberg.