Biography
Having spent her childhood in sparsely populated Northern Finland, Sanna Myrttinen developed a close connection to nature, which to this day remains her main source of inspiration. Through her art studies at Växjö University (now Linnaeus University) and the university's close ties to Japan, she was able to access unique books on classical Japanese art.  In search of her own visual language, these books seemed like a refreshing change from the European styles and -isms. It was the tranquillity, the emphasis on emptiness and the visualisation of a life philosophy that deeply resonated with her and formed her artistic path.
Extensive travels and contact with Chinese folk art as well as contemporary Balinese art, further influenced her style and use of color. Her motifs, colors and compositions also always carefully align with the ancient Chinese teachings of Feng Shui. The flow of energy throughout a painting is of key importance to her.
An introduction to the fine art of Hitsuzendo (Japanese Zen Calligraphy) with the zen monk Dokko-An Kokugyo Kuwahara, was another stepping stone for Myrttinen to begin exploring the highly meditative and challenging art of ink painting. Inspired by the ink works of Japanese artist Joshio Ikezaki, Myrttinen began to develop her own style, depicting meditative scenes of her childhood Finland, Starnberg and the Engadine mountains of Switzerland, where she likes to spend her winters.
In the past few years, she has also ventured into the ancient art of mosaicing, challenging herself in entirely new ways. After completing a master's class at Orsoni in Venice in 2017, she now is an active member of the German Association of Mosaic Artists (DOMO), organizing exhibits as well as creating her own mosaics.
When not painting or kneeling over a mosaic, Myrttinen enjoys working on her book series "the Adventures of Feliz". It is her first series that she is both writing and illustrating.
After years of living and working in different parts of the world, she now lives in Starnberg, Southern Germany. Her studio lies on a farm amidst the beautiful, hilly Bavarian countryside. She spends her free-time climbing, hiking, skiing and kayaking all around Europe. She is also an active member of the environmental organisation Fans For Nature (www.ffn.org) and has been continuously supporting their projects to preserve the last remaining orangutans since 2008.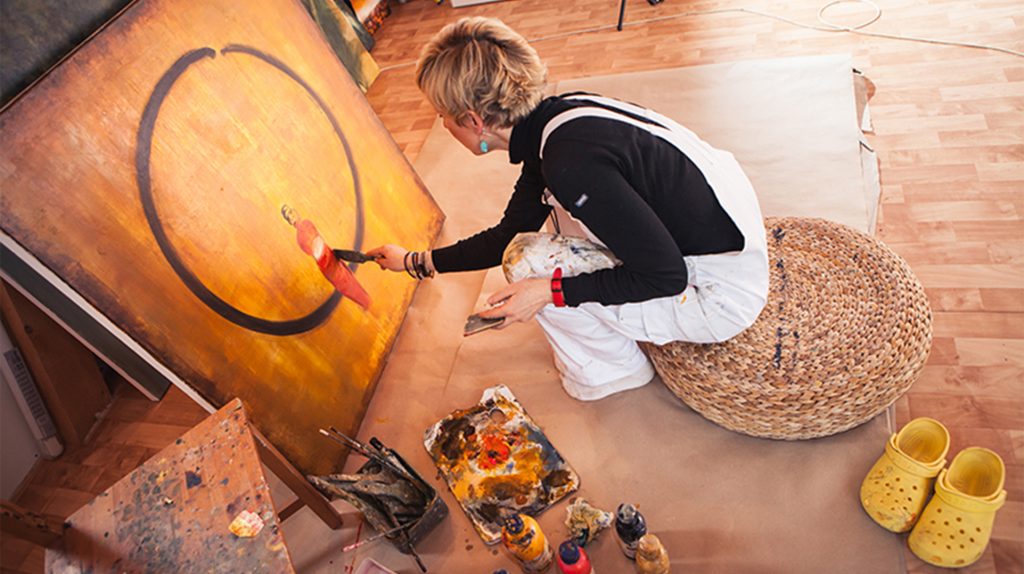 Statement
Sanna Myrttinen regards painting and mosaicing as an active form of meditation, whereby her works act as gateways to stillness and peace in an increasingly disharmonious world. She believes that by becoming still, by re-connecting with ourself and with nature, we come to sense a new kind of interconnectedness and appreciation with our social, cultural and natural environment.
Her meditative landscapes and simplified, playful forms with emphasized outlines, speak a language that bridges Eastern philosophy with her own Nordic heritage. Spiritual growth and the search for connectedness with nature and with each other are reoccurring themes.
The works range from vibrant mixed media paintings with contemplative texts to playfully scraped cityscapes and reinterpreted maps reminiscent of South-East Asian landscape paintings and woodcuts. Her meditative works follow in the tradition of Enigmatic Realism and are inspired by the aesthetic concepts of Eastern philosophies.